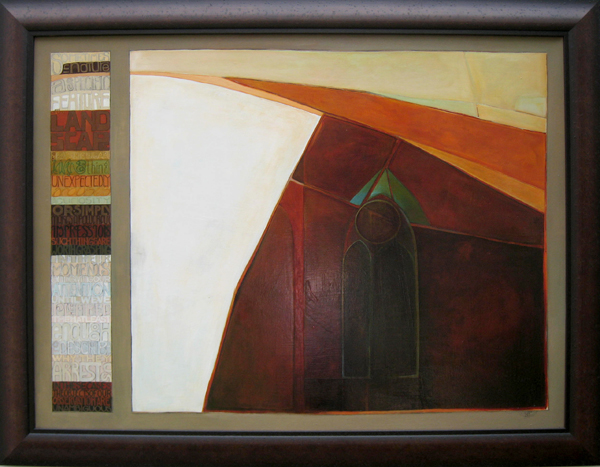 Sometimes in Nature…
by Kristin Serafini
18 March 2008
acrylic on canvas
40″ x 30″ plus frame

Largely because of the things I learned on the Principia Upper School Teton Trip as a student in 1993 and 1994, I've found that my artwork tends to involve both words and pictures. I move back and forth between the two modes of expression in the children's books I write and illustrate, and even more fluidly in my journals. Lately, I have stopped pretending I'm not an illustrator, and have incorporated text into several of my larger canvases as well. Like Refuge, the composition for this piece began as a sketch in my 2008 Teton Trip journal. It's what I call an 'abstract landscape'. You can see a line that generally resembles an horizon towards the top of the picture, but as your eye moves downward, you might also notice some shapes that look like snowy ridges, and others that vaguely resemble cathedral windows. I wasn't trying to paint a picture of actual wilderness so much as the almost holy process of seeing that wild world. The quote that is part of this painting is from Wide-Eyed Weasels: Learning to Journal in the Tetons, a book I co-wrote and illustrated with Dr. Michael Booth, who teaches the morning art and writing workshops with me on the Teton Trip.
"Sometimes in nature, a specific feature of the landscape or a particular living thing unexpectedly arouses our curiosity or simply makes a powerful impression. Such things are worth grasping in their moments and giving our attention until we've plumbed them at least enough to describe why they arrest us. In these cases, the objects of our observation are unambiguous."