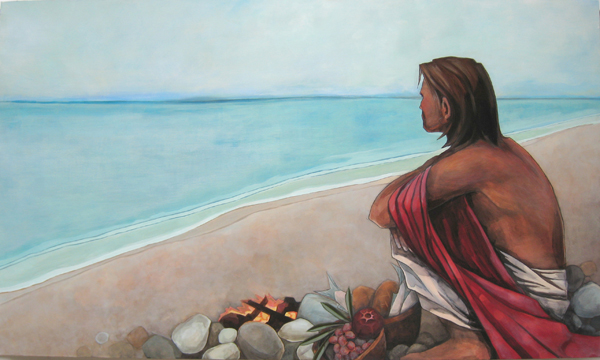 Resurrection Breakfast
by Kristin Serafini
acrylic and pencil on gallery canvas
60″ x 30″
SOLD.

on display at the Christian Science Society of Lafayette Square, St. Louis, MO
Reference
"After these things Jesus shewed himself again to the disciples at the sea of Tiberias; and on this wise shewed he himself. There were together Simon Peter, and Thomas called Didymus, and Nathanael of Cana in Galilee, and the sons of Zebedee, and two other of his disciples. Simon Peter saith unto them, I go a fishing. They say unto him, We also go with thee. They went forth, and entered into a ship immediately; and that night they caught nothing. But when the morning was now come, Jesus stood on the shore: but the disciples knew not that it was Jesus. Then Jesus saith unto them, Children, have ye any meat? They answered him, No. And he said unto them, Cast the net on the right side of the ship, and ye shall find. They cast therefore, and now they were not able to draw it for the multitude of fishes. Therefore that disciple whom Jesus loved saith unto Peter, It is the Lord. Now when Simon Peter heard that it was the Lord, he girt his fisher's coat unto him, (for he was naked,) and did cast himself into the sea. And the other disciples came in a little ship; (for they were not far from land, but as it were two hundred cubits,) dragging the net with fishes. As soon then as they were come to land, they saw a fire of coals there, and fish laid thereon, and bread. Jesus saith unto them, Bring of the fish which ye have now caught. Simon Peter went up, and drew the net to land full of great fishes, an hundred and fifty and three: and for all there were so many, yet was not the net broken. Jesus saith unto them, Come and dine. And none of the disciples durst ask him, Who art thou? knowing that it was the Lord. Jesus then cometh, and taketh bread, and giveth them, and fish likewise. This is now the third time that Jesus shewed himself to his disciples, after that he was risen from the dead."
-John 21, KJV
Incubating The Idea
I have been thinking about this painting for maybe seven years. It's funny, because I don't usually incubate artwork very long. Typically, the idea gets either incredibly insistent, or suddenly uninterested. But I recognized that it's kind of a big deal to paint Christ, so rushing into it wouldn't do the concept justice. I guess I also knew I had some growing to do as a painter (on canvas). It's only within the last 2 years that have really had the opportunity to work on canvas with any regularity. Most of my art up to that point had been children's book illustrations, and drawing/painting in my journal. After illustrating Psalm 23 and The Lord's Prayer as a pair of 24-page board books for the Christian Science Publishing Society this summer, I finally felt I was ready to approach this painting. As much as I love making books for children, I got really excited about doing a doing a religious/spiritual work for a slightly more mature audience. You can't be very subtle with the 3-5 year-old crowd…
It seems like everyone paints the "Last Supper". But I don't think I have ever seen a master painting about the "First Breakfast". I love the idea of painting the quiet moments in between the grand tableaux laid out by the Renaissance masters. Maybe this will turn into a series…I don't know.
Composition
At first, I imagined the canvas crowded with dripping disciples dragging their nets up to Jesus. That's how I thought of the painting for a long time. But in the end, only the basic elements remained: the sea, the sand, the fire, and the Christ figure. What seemed most important was the quiet, watchful nature of the Christ.
In this frame, he has just told the disciples to cast their nets on the right side, and is now waiting for them to gather the fish. He is relaxed, but actively watching his students. After overcoming death, there's nothing left for him to fear.
The flat morning light and the gentle color variations in the landscape reflect his inner peace. I deliberately lined the horizon up with his eye level. Even the foreground colors are toned down so that the abundance of food at his feet seems completely unsurprising.
Elements
Beginning with Jesus himself, I am so tired of artists representing him as a fair-haired Northern European. I spent a while looking at real people from Palestine and what is now Israel, and tried to make him look like a guy from that part of the world who spent a good bit of time outside.
As for his regal red robe, I liked the idea of Christ being totally over personal forms of worship, status, or appearance. He placed a premium on how his disciples acted (love God, love your neighbor, heal the sick, raise the dead…), not on how fancy their outfits were, or how many gifts they gave their Master. So his red mantle is casually slipping off his shoulder as the ideas of sacrifice, heroism, and holiness take on a more spiritual meaning for him.
When painting the baskets of breakfast at his feet, I had to do a bit of research. I found that figs, pomegranates, and especially olives appear to have been common foods of this place and time. Olive oil was also used to anoint the heads of honored guests. The word Messiah apparently means "anointed one", so I thought I should definitely include some olives. I also learned that in the Jewish tradition, pomegranates symbolize righteousness.
Yes, there is a cross in the fire.