(For best blog-enjoyment results, press this iTunes button and purchase the Cavatina for a mere 99¢ & listen to it while reading this wonderfully long post.)


I spent 3 weeks (21 August – 11 September 2005) teaching journaling and children's literature at Arts For The Soul in Steamboat Springs, Colorado again this summer. It was quite an adventure! I made a few new friends and got to hang out with some old ones too. Hiked every Saturday with the younger staff and our energetic director, John Sant'Ambrogio (who might actually be something like 73, but thinks he is one of the younger staff. And that's all that really matters anyway, right?) This time my husband Gabriel (who created this adorable website – thanks honey!) got to come out for Labor Day weekend, and my mom joined me for 3rd Session.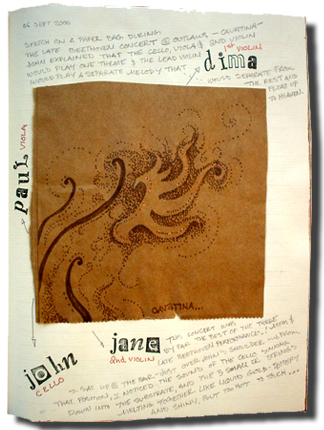 The evening concerts performed by the professional string quartet are always a special treat for me. I have to soak up as much music as I can, because most of my regular life is wrapped up in the visual arts… On Tuesday, 6 September 2005, (3rd Session) we ate at Outlaws, a classy restaurant that opens in the off-season especially for the AFTS group. The musicians performed a Late Beethoven program, which included the Cavatina movement from the String Quartet No. 13 in B flat major ("Lieb"), Op. 130. John explained that Beethoven was completely deaf when he wrote this piece, and yet it moved him so deeply that he couldn't be in the room to even watch a performance because it would make him cry. He also explained that we would hear the cello (John Sant'Ambrogio), viola (Paul Reynolds), and 2nd violin (Jane Price) play one melody while the 1st violin (Dmitri Pogorelov) would lift up from that earthly sound and float a heavenly melody over the top of the composition. It was exquisite. As John explained the structure of the piece, I could see what that looked like. I didn't have my journal with me that night, so I began to draw using the only materials I had available: a brown pen and a brown paper bag.
Above, you can see how I taped the sketch into my journal, and made notes about how I would like to develop the idea.
After the concert, I showed the sketch to my friend Dmitri, and explained how I would love to put it on a 4-foot canvas and really develop the surfaces with a good amount of painterliness. His reaction, as a musician, was very interesting:
"Big? Really? To me this piece is very small…" he said, holding his hands close to his heart and folding his shoulders inward.
That gave me an idea. Just then, I remembered that I was scheduled to present something about my process of making art at a panel called "Artists on Art" on Thursday. I decided to develop this idea in two different ways, so the students could see how in art, there isn't only one right answer – there might be several.
Below, you can see how I was originally imagining the composition.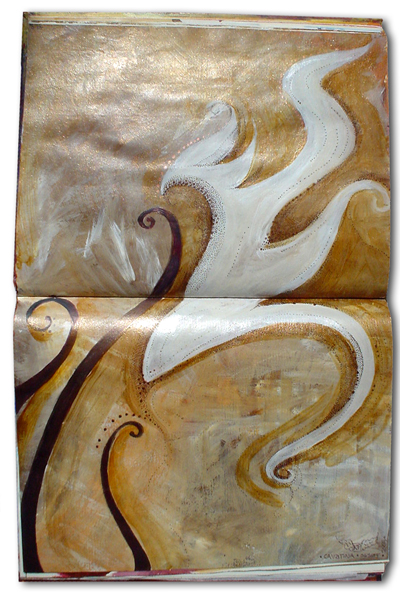 Notice how the ethereal 1st violin shape is balanced on the curving 2nd violin shape. The biggest paper I had to work with was a spread in my journal, not a 4-foot canvas, but you get the idea. I used acrylics to make this painting, and there are about 4 translucent layers that make up the background.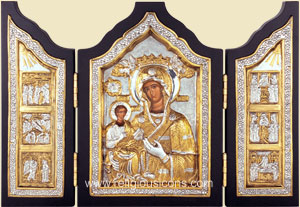 Next, I puzzled about how to do a small, precious version of the same composition. I was immediately reminded of those little wooden devotional triptychs that often reveal an image of the virgin and child inside. Here's an example. (No, I did not make this one…) But it had to fit in my journal, so I made my triptych out of paper, instead of wood. I am not sure how it will last over time, but we'll see.
I began with the center image and then worked out to the side panels, which represent the clear, starry nights that make midnight in Colorado so magical. The front faces of the panels are decorated with angels in a bronze color scheme – sort of representing church doors.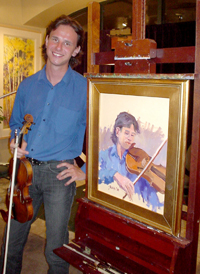 Just as I was finishing the triptych, it was time to attend another concert the next night. That evening, we took the students down the hill to Wild Horse Gallery, where they got to listen to the quartet read through some music as artist and gallery owner Richard Galusha painted a portrait of Dmitri. I spent the evening trying to evoke the bit of time when Dmitri told me how he imagined the Cavatina. Pencil sketches accumulated around the outside of the triptych. (I added a bit of color later…) I was interested to watch myself trying to picture such a small event, an almost nothing of a moment, through several related gesture drawings instead of painting a complete representation.
Here's the visual version of Beethoven's Cavatina as inspired by Dmitri: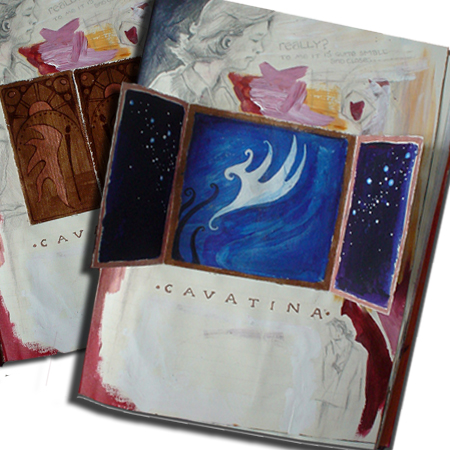 AFTS became a bridge like the Devil's Causeway between painting, music and writing. I found myself exploring the unfamiliar landscape of music with nothing but my brushes and pencils. The whole thing was exhilirating.