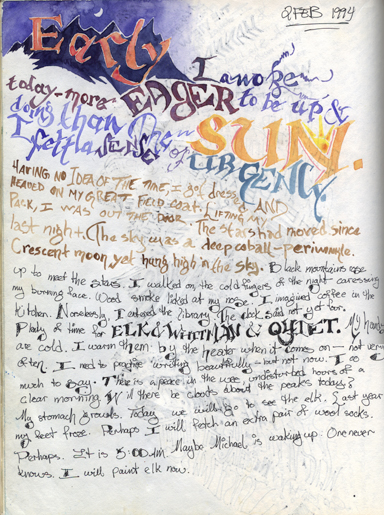 This page is from my senior year in high school. I got to go on the Principia Upper School Teton Trip for the second time. It was a week out of school at the end of January to spend at the Teton Science School on the edge of the Grand Teton National Park. We stayed in cabins, far out of town in a vast white wildness. We spent the mornings studying creative writing and drawing. Afternoons found us out in the field. We cross-country skied and snowshoed for 3-4 hours every day, studying the mountain habitats. This trip was about making connections between art, science, and writing. It was also about seeing oneself as something more than a high school student with a certain amount of friends, a certain GPA, a certain sports ability…
It's about taking responsibility for your own creativity and your own education.
Media:
Writing with watercolors and black ink pen.